Improve agricultural operations with OPTiM's IoT solution
Optimize your farm with big data management and analysis
Check your fields remotely with drone images and sensor data
Equip your field with sensors, cameras, and drone scanning. Then, our app Agri Field Manager can show the state of your fields, utilizing image analysis, sensor data, weather data, farm work reports, and more.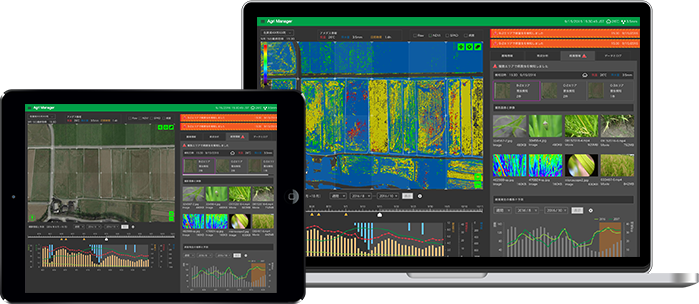 Advanced analysis to visualize plant nutrition
Agri Field Manager also lets you analyze plant health. For example, NDVI is calculated using image data taken by a multispectral camera, and abnormalities, such as dying leaves, can be detected and displayed on-screen. With multilateral growth analysis from image data, sensor data, NDVI and SPAD values, our solution can determine the best conditions for your crops.
Key Terms
What is NDVI? NDVI stands for "Normalized Difference Vegetation Index," and is a way to determine the quantity and condition of plants. It is calculated by the quality of light reflected off the plant, as measured by a specialized camera.
What is SPAD Value? SPAD stands for Soil-Plant Analyses Development Value, and is a numerical value of the chlorophyll concentration in plant leaves. With this information, a plant's health can be determined for effective fertilizer application.
Make record keeping simple!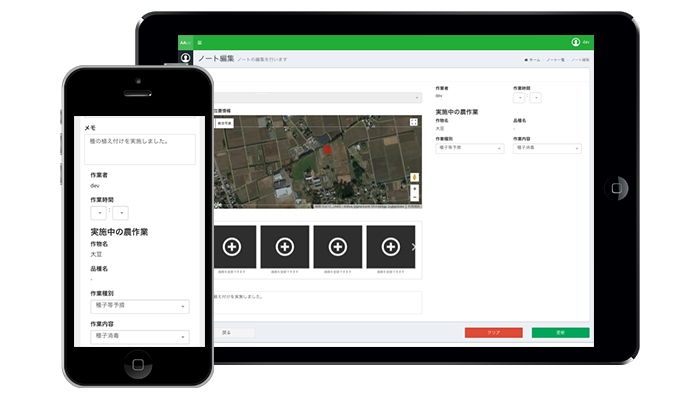 Record farm work effortlessly with Agri Assistant
Agri Assistant is equipped with voice assistant features, as well as voice-to-text conversion, so farm work records can be done with a smart device while working, no need for paper, or even to stop work to type. Notes can be converted to manuals for various procedures.
Easily keep accurate records for future use
This app can automatically log data such as location and time, as well as data input by voice, images, or text, so that actual, real-time agricultural work can be accurately saved. Use this data to record information needed for Global GAP certification
*
.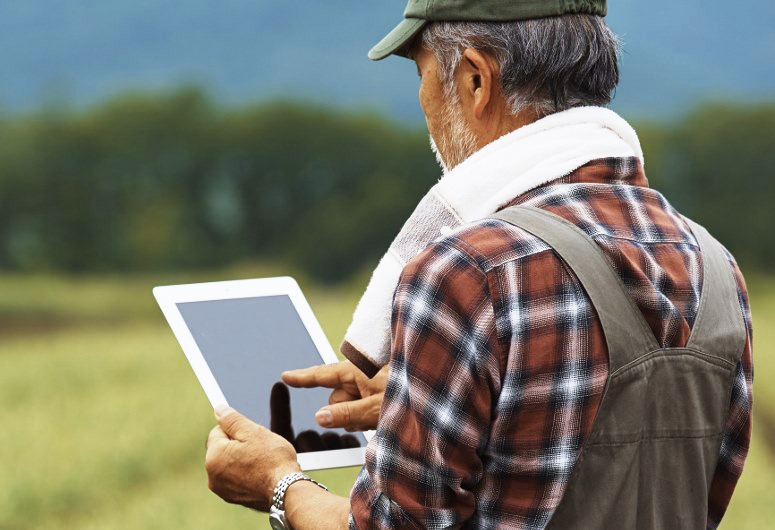 The process for this app to be a recommended system for Global GAP is in progress. Already an official recommended app by the Japan GAP Association.
Key Terms
What is GAP? Standing for "Good Agricultural Practice," this is a set of standards for agricultural production. The goal for such standards is to provide farmers with guidance for agricultural practices that are both environmentally friendly and result in wholesome produce for consumers. Numerous countries and organizations have created specialied GAP standards. OPTiM is working towards creating a localized version of Agri Assistant that follows Global Gap standards.

About Global GAP: https://www.globalgap.org/uk_en/
Insect detection by AI image analysis
With AI image analysis of drone images, early pest detection can be done easily, no matter the size of the field. Reduce pesticide use by spraying only on the affected areas, reducing both labor costs and supply costs, while improving the quality of your crops at the same time.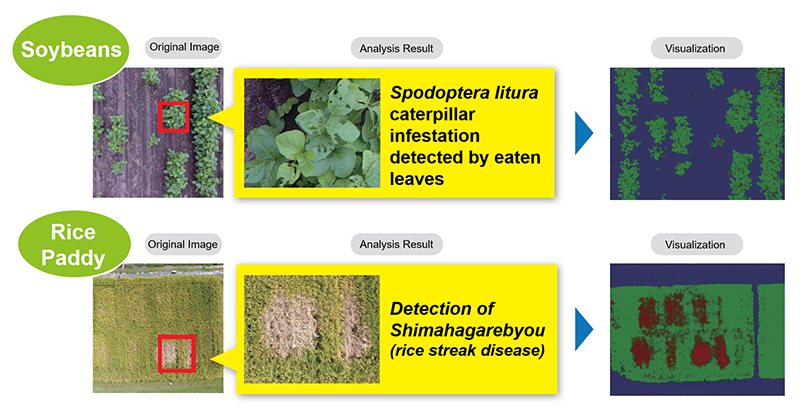 Different crops have different pests, so there is no one-size-fits-all solution for all produce. OPTiM has done extensive research to develop AI that can detect pests that damage certain crops. Currently, the company is testing pest detection AI for 27 different crops at 7 test sites in Saga Prefecture, in the southwest of Japan.
7 Test sites:
Saga University AgriCenter​​
Saga Prefecture Agricultural Research Trial Center, ​Main Field​​
Saga Prefecture Agricultural Research Trial Center, Mise Field​​
Saga Prefecture Tea Processing Research Area​​
Saga Prefecture Fruit Tree Research Area​​
PlantFarmJapan​​
Shigetomi Farm
Tested on 27 crops
rice
soybeans
onions
strawberries
asparagus
green tea
mikan (tangerines)
cucumers
cabbage
potatoes
broccoli
sunroot (Jerusalem artichokes)
okra
eggplants
green peppers
chili peppers
Japanese sweet potatos
taro
peaches
persimmons
loquats
kiwi fruit
sweet corn
winter melons
plums
spinach
pine trees
Fun, Cool, Profitable Agriculture with AI and IoT
Point 1
Reduce management costs
Constantly checking your crops by hand is no longer necessary. Reduce costs by replacing labor with IT and preventing disease in crops.
Point 2
A new era of agriculture
Improve agriculture. With IT, what was dirty, back-breaking work can now be a profession for the modern era with broad appeal.
Point 3
Advanced analysis
Improve crop quality and output with high-tech analysis utilizing NDVI and SPAD.
Point 4
Early pest detection
Reduce supply costs by detecting pests early with AI, and then applying pesticide to only those areas.
Point 5
Get GAP certification
Easily keep records of farm work and progress to GAP standards.