Improve aquaculture operations with OPTiM's IoT solution
Cultivate with AI, IoT, and robotics to improve production quality and quantity, as well as reduce operational costs. Grow your aquaculture facility in unexpected ways.
Efficient, effective work with big data management and analysis
Real-time water information with ICT buoys
Various kinds of sensors can be equipped on the ICT buoy to collect various kinds of water data: salinity, temperature, density, and more. Data is continuously collected on the cloud through LPWAN (low power wide are network), so the data can be checked any time, any where.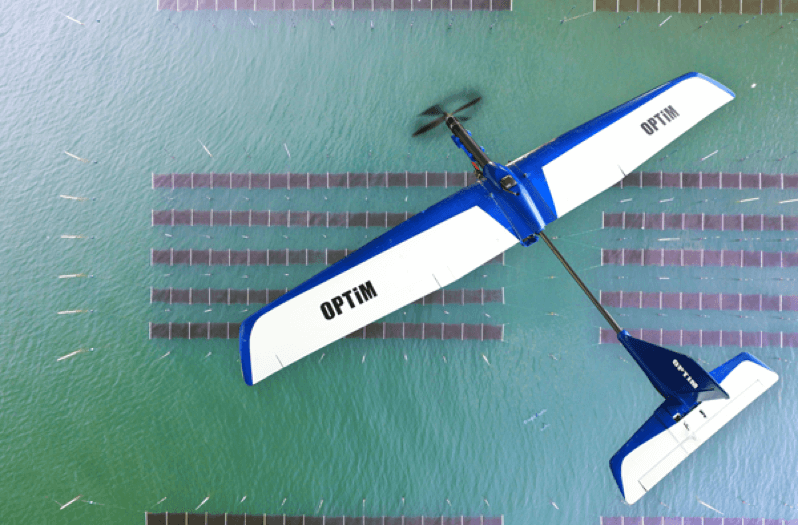 Get a complete view of your water with OPTiM Hawk
Since the OPTiM Hawk drone can fly long distances to get a full aerial picture of the water, there is no need to send staff out in boats for constant inspections. Also, the images can be analyzed to find irregularities, such as red tide, before they grow to serious problems.
Comprehensive aquaculture management with Fishery Manager
Fishery manager, an app for OPTiM Cloud IoT OS, displays all important aquaculture information in one place: weather, water temperature, salinity, pH levels, work logs, and growth data. Fishery Manager can provide all this information in one place, so it's easy to understand your aquaculture area at a glance. In addition, issues can be handled quickly with alerts that are sent to you when abnormal data is detected.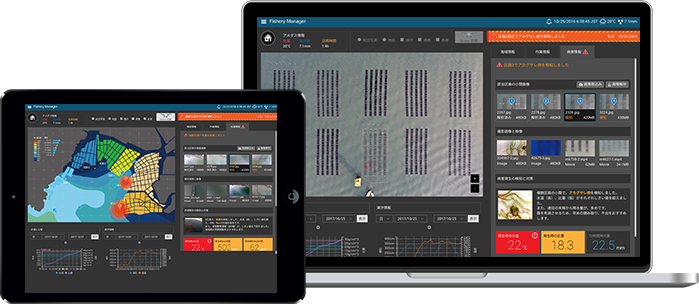 Optimize your operations with recommendations from AI analysis
OPTiM's AI links the aquaculture field environment with growth results, and can find the best conditions for your product. The analyzed data includes the state of the water, amount and type of cultivation work, and output statistics. AI can help you uncover insights that humans cannot easily observe.
Key Terms
What is LPWA?
LPWA stands for "Low Power Wide Area," and is a type of wireless communication that can cover several kilometers while only using a small amount of battery power.

What is an ICT buoy? ICT stands for "Information and Communication Technology," and an ICT buoy is a buoy that has sensors and communication features that allow it to send collected information to a cloud server.
Prevent Disease, Increase Production Value, and Improve Labor Efficiency with AI, IoT, and Robotics
Point 1
Early disease detection
Improve yield and quality of your product by detecting diseases early and preventing further damage.
Point 2
Optimize labor
Automate routine work, such as data collection, through drones and sensors, allowing workers to focus on more complex tasks.
Point 3
AI-powered operation improvements
AI can uncover more efficient and effective work processes, improving work operations for both experienced and new workers.